Steam couplings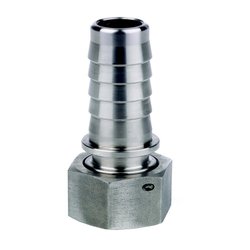 Operation
Steam couplings are used for saturated and hot water applications. Steam couplings complying with EN 14423 are available in female and male threaded screw hose couplings and in flange couplings.
 
Material
Coupling: stainless steel AISI 304 - 1.4301, galvanized steel 95MnPb28 - 1.0718 and brass CW614N - EN 12420.
Flange: galvanized carbon steel Rst 37.2 and stainless steel AISI 316 - 1.4401.  
Seal: novatec PREMIUM II for the flanges and brass and steel couplings and PTFE for stainless steel couplings. 
 
Assembly
RKS steam clamps complying with EN 14423
Catalogue download