Dinbo steam couplings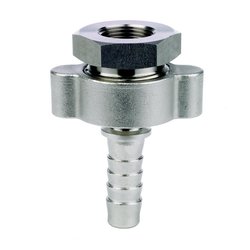 Operation
Dinbo steam couplings are commonly used for compressed air, water, liquid petroleum gas, fluid petroleum products, chemical, potable fluids and almost any other type of fluid gas. They can be used with all types of rubber, synthetic, plastic, metal or semi-metal hoses. LMC-Couplings Dinbo steam couplings have been developed for use in steam applications up to 18 bar - 260 psi.
 
Material
Coupling: stainless steel AISI 316 - 1.4401, zinc plated steel and bronze 2.10 90.01 G-CuSn7ZnPb.
Seal: PTFE + 15% graphite.
 
Assembly
RKS steam clamps complying with EN 14423
Catalogue download