Guillemin couplings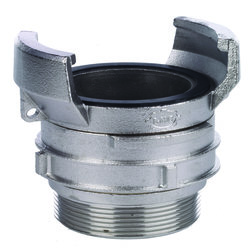 Operation
Guillemin couplings are used for pressure and suction delivery of liquids, such as powders and granulates. LMC's guillemin couplings are symmetric couplings designed in compliance with EN 14420-8.
 
Material
Coupling: aluminium heat treated and stainless steel AISI 316 - 1.4401.

Seal: NBR black (standard for stainless steel and aluminium), NBR white (FDA approved), EPDM white, FPM green and PTFE white. 
 
Assembly
 Worm drive clamps
 Band clamps
 RK safety clamps complying with EN 14420-3
 Flexoline safety clamps
 Swage ferrules for helical hose shank
 Butt welding
 
Quality testing
Guillemin couplings are often submitted to heavy handling impact when loading and unloading liquids and solids. These couplings are therefore subject to more demanding testing methods than other couplings.
LMC's guillemin couplings undergo a number of tests executed by our R&D department. In addition to our own testing methods, we also use the latest gauges specified by the European EN 14420-8 standard. The following properties are tested:
 lugs
 locking ring
 material test
 dimensions
 quality finishing 
Catalogue download