GK couplings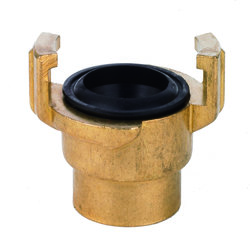 Operation
LMC's GK couplings are symmetric quick couplings designed for agricultural, gardening, construction and public service applications.
Material
Coupling: brass 2.0401 - Ms 58 hot forged. 
Seal: NBR (standard) and FPM (on request).
Assembly
Worm drive clamps and low pressure ferrules.
Quality testing
In addition to being manufactured from the right material quality using the right production method, the claws of LMC's GK couplings are tested for mechanical strength by means of an impact test. Above the accepted pressure limit, GK coupling claws may distort, although this is impossible under normal working conditions when both parts of the GK coupling are connected.
However, GK claws are often dropped by operators, which can result in fractures or even claw breakage. Following impact test, LMC's GK coupling claws show no sign of fracture of breakage. 
Catalogue download