TW couplings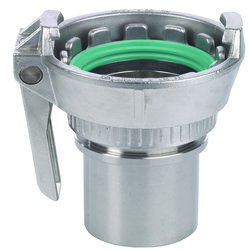 Operation
LMC's TW couplings are asymmetric couplings used for the transport of liquids, solids and gases, with the exception of liquefied gas and steam.
Material
Coupling: stainless steel AISI 316 - 1.4408 by investment casting, brass CW1617N by forging, aluminium by forging and polypropylene.
Seal: NBR black profiled seal, PU brown thread seal and NBR black square seal (brass TW couplings), CSM green profiled seal, PTFE white thread seal and CSM green square seal (stainless steel TW couplings) and NBR black (aluminium TW couplings).
 
Assembly
 RK and RKP safety clamps complying with EN 14420-3
 Flexoline safety clamps
 Band clamps
 Worm drive clamps
 
Quality testing
TW couplings at LMC are regularly tested. As the TW locking ring is mostly affected by falling, extra testing is done to ensure our customers a high quality product.
The test levels are:
 mechanical resistance
 material composition
 manufacturing process
 dimensions
 design 
Catalogue download