RKP safety clamps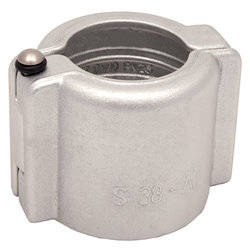 Operation
RKP safety clamps and pins are manufactured in compliance with EN 11420-3 and are used to assemble EN standardized hoses.
RKP safety clamps are pre-assembled by means of a hinge pin on one side of the assembly, which facilitates and speeds up assembly. When RKP safety clamps are correcly assembled, the coupling cannot be pulled out of the hose. When the clamps are not damaged, these can be reused also.
 
Material
Shells: forged aluminium.

Hinge and locking pin: stainless steel AISI 305 - 1.4303.
Catalogue download