European air couplings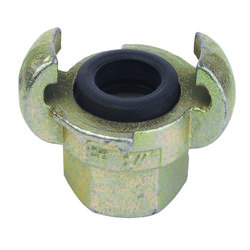 Operation
LMC's european air couplings are heavy-duty couplings manufactured in compliance with DIN 3489.
European air couplings are used for air and water applications and should never be used for steam applications.
 
Material
Coupling: galvanized steel and stainless steel AISI 316 - 1.4401.
Seal: NBR.
 
Assembly
Two-bolt saddle clamps and worm drive clamps.
 
***Easy solution*** European air crimp couplings
LMC-Couplings has designed an European air crimp coupling with longer hose shank and double collar. The perfect solution to easily fit our EA coupling in your hose!
***Safety first*** European air safety couplings
The safety version of LMC's European air couplings is similar to the European DIN 3489 standard for air couplings, but with addition of a safety locking pin for extra security. 
 
Catalogue download