DSP couplings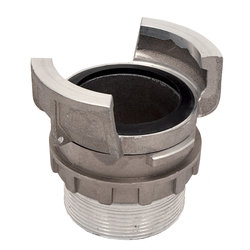 Operation
The main application of DSP couplings is fire fighting. These kind of couplings are self-sealing symmetrical couplings which are secured by interconnecting two DSP couplings. LMC's DSP couplings are manufactured in compliance with NF S61-704 for the dimensions DN40 and DN65. The AR100 dimension is manufacturd in compliance with NF S61-705.
Material
Coupling: heat-treated aluminium

Seal: NBR black
Assembly
Wire binding
 Low pressure ferrules
 Band clamps
 Worm drive clamps
 
Quality testing
The fire fighting application of DSP couplings causes significant impacts on the coupling during handling. DSP couplings are therefore subject to more demanding testing methods than other couplings.
Like LMC's Guillemin couplings the DSP couplings undergo a number of tests executed by our R&D department. The following product properties are tested:
 lugs
 locking ring
 material
 dimensions
 quality of finish 
Catalogue download