Flexoline safety clamps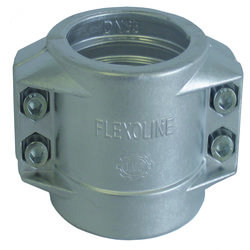 Operation
Flexoline safety clamps have been developed and manufactured in close collaboration with customers and hose manufacturers. The hose industry developed thin-wall hoses that are lighter and more flexible then even before, for which the RK safety clamps are too big. To solve this inconvenience and for safety reasons, LMC-Couplings developed Flexoline safety clamps for thin-wall rubber hoses.
 
Material
Shells: forged aluminium and casted stainless steel.
Nuts and bolts: zinc plated 10.9 (aluminium clamps) and stainless steel A.2 class 70 (stainless steel clamps).
 
Catalogue download