Cam & groove couplings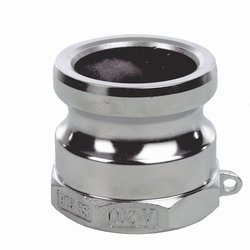 Operation
Cam & groove couplings are used for hose-to-hose or hose-to-pipe / manifold connections for the transfer of liquids or dry bulk products.
Material
Coupling: stainless steel AISI 316 - 1.4401, brass C85700, bronze C84400, aluminium 380 and polypropylene. LMC's polypropylene cam & groove couplings contain 25-30% fibreglass reinforcements and are FDA approved. 

Seal: NBR, EPDM, FPM, CSM, FEP / VMQ, PTFE / EPDM, PTFE / PFM, PTFE / FPM. 
Assembly
 Worm drive clamps
 RK safety clamps to EN 14420-3
 RKP safety clamps to EN 14420-3
Flexoline safety clamps
 Welding
 
**SAFETY FIRST** Saflok couplings
The operating system of Saflok cam and groove couplings is similar to those of standard cam & groove. The male adaptor part is pushed into the female coupler part which causes an upward lifting of the handles of the female coupler. To secure the connection both handles are pushed downwards by the operator. To disconnect the finger pull rings are pulled down- and outwards. 
Catalogue download