RKS steam clamps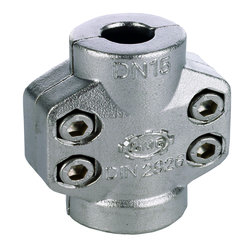 Operation
LMC's RKS steam clamps are manufactured in compliance with EN 14423 for use with low and high pressure steam hoses complying with EN ISO 6134.
RKS steam clamps are used in saturated steam and hot water applications.
There are a number of physical differences between RKS steam clamps complying with EN 14423 and RK safety clamps complying with EN 14420-3:
 RKS steam clamps are physically larger and longer.
 RKS steam clamps have deeper inner grove.
 RKS steam clamps consist of a thicker wall. 
 
Material
Shells: forged brass and investment casted stainless steel.
Nuts and bolts: zinc plated 8.8 (brass clamps) and stainless steel A.2 (stainless steel clamps).
Catalogue download